Thick natural 75 sheets of photo album with black pages
Thick 75 sheets of photo album black 150 pages, wooden in its originality - pure, smooth and elegantly proportioned
Neutral photo album 33 x 25 cm - with firm back and both sides foldable, hinged front and rear
Like hardly any other raw material from the treasury of nature, wood is a substance full of secrets. With its structure, which has often grown over centuries, the trees not only demonstrate strength. Each year, each of them has a very special structure. Like hardly any other raw material, wood is one of the fast-growing materials - and for centuries, people have combined it with resilience and utility, but also the opportunity to create jewelery or toys, utensils or everyday utensils.
Wood in its perfected originality is always the most beautiful when it is left as it was created by nature. Therefore, this photo album from noble Scandinavian beech is processed with great effort and care so that its purity is particularly good.
The smooth surface from which the cover of the albums is made holds 75 sheets of a particularly simple but high-quality black cardboard box. Thus, the uniqueness of this raw material wood, from which paper and cardboard are finally made, is particularly strengthened. With as much originality as this wood album has, it is obvious that the sides of the regularly manufactured covers are left in their original structure.
This not only opens up the possibility to use this album for many different occasions, but also underlines the special note. Anyone who incorporates into the album those photos that nature has in store for motifs, who, in harmony with the beautiful and respected of the creation, preserves such an album will appreciate it. And for those people, this album is made - a gift of life that is accepted in gratitude.
Handmade and unique. All photo albums are made especially for you.
The wooden cover  made of noble Scandinavian beech  is proceeded to give it a  rustic and of noble appearance. The hinges are individual pieces, hand decorated and then made to look "old" are  attached to the cover with copper rivets.
This thick photo album can be opened from both sides. In the book spine there are 3 cut-outs, where each 25 sheets (50 pages) are riveted together. 75 sheets, (150pages) are separated by white tissue paper. We use 300g heavy carton for all those 75 black sheets.
Product information:
Photo album - handmade
Cover size: 32 x 25 cm
Insides: 29.7 x 21 cm (DIN A4)
Fitting: forged brass with patina treated (made on "old")
Hinges are attached with rivets (copper)
Cover material: beech wood with "Liberon" treated
Wooden photo album 75 sheets
Inside: 150 embossed black cardboard pages
Both covers foldable
In the book spine there are 3 cut-outs, where each 25 sheets (50 pages) are riveted together
75 sheets separated by white interleaf sheets (to protect the photos)
---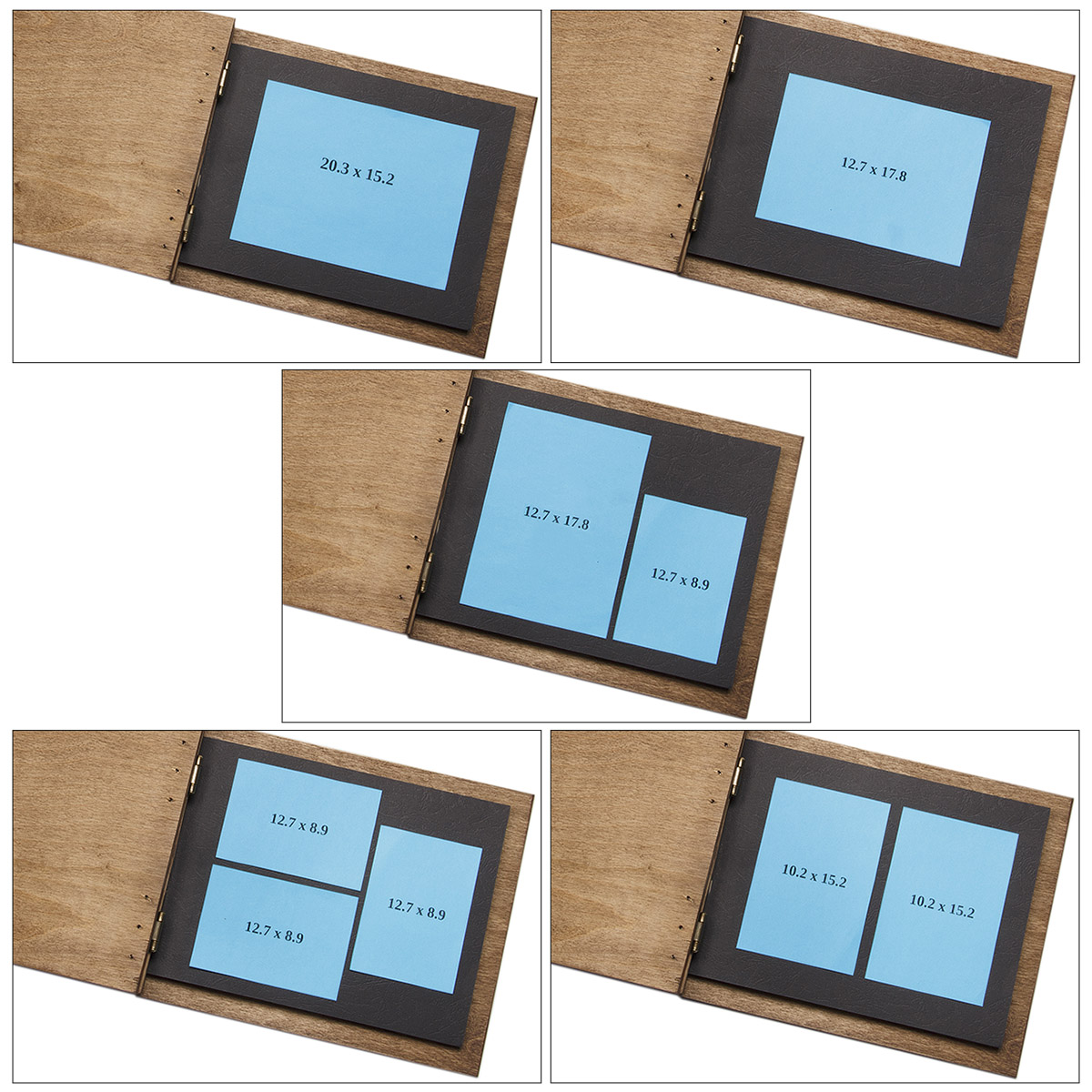 ---