Set - 25-sheet marriage ceremony album + guestbook in a wooden box
Photo album and guestbook with the same wedding motif in a matching wooden box
Wedding gifts packed in matching wooden boxes - motif 3D rings

It is said that what you forget is basically not experienced.

Images fade, memories become weaker, and the details are getting harder and harder to retrieve. It also means that moons and years pass by, a beautiful moment, however, shines all through life.
For in fact, in times of day and day stress and stress, worries and everyday tasks, people need the memory. It helps them stay strong when they become weak. But it also helps them to experience, together with other loving people, the happiness which marked this moment.

Thus, people have always developed a special fascination for preserving memories in the best sense of the word. With the photo album of wood there is such a place.

Designed as wedding books, these articles, made of exquisite Scandinavian beech, are not just the place to document the most beautiful day in life. They are also the place where it is shown how everything began: the first time, the first holiday and the engagement. The wedding on stand and before the altar, but also the subsequent party and the wonderful honeymoon.

High quality cardboard in the photo albums is used to process the black pages in the highest quality. Even the folding hinges on the outside are made by hand and ensure that a wooden book (whether photo album or book) can be taken out again. Not just for the roses or the silver wedding, but also on those days, when a couple would like to thank gratefully, how everything began.
We make our albums especially for you. The cover is handmade of natural noble Scandinavian beech. To give the cover a special hint of 'old look' and rustic noble appearance we have treated it by Liberon. The fittings are hand decorated and attached to the cover by rivets, made of cooper.

Inside our photo albums there are black embossed cardboard pages. These are separated by white tissue paper. We use 300g cardboard for the inside sheets on all albums. Our guestbooks, on the other hand, have 90g of ecru color paper, matching the dark wooden structure.
Product information
Book cover size: 32 x 25 cm
Book interior: 29,7 x 21 cm (DIN A4)
Forged brass patina treated to look 'old'
Hinges attached to the cover by copper rivets
Cover material "Liberon" treated
Material: Scandinavian precious beech "Liberon" treated
Set 25-sheet photo album and guestbook in a wooden box 
Motif: golden rings in 3D on both books
Photo album - inside: 25-sheet | 50 black embossed pages A4 
Separated by white interleaf sheets (to protect the photos)
Guestbook - inside 100 sheets | 200 ecru pages A4
Wooden box size 1, matching box
Width: outside - 385 mm / inside: 350 mm
Depth: outside - 310 mm / inside: 270 mm
Height: outside - 80 mm / inside: 50 mm (without cover)
Delivery: photo album & guestbook in a wooden box
---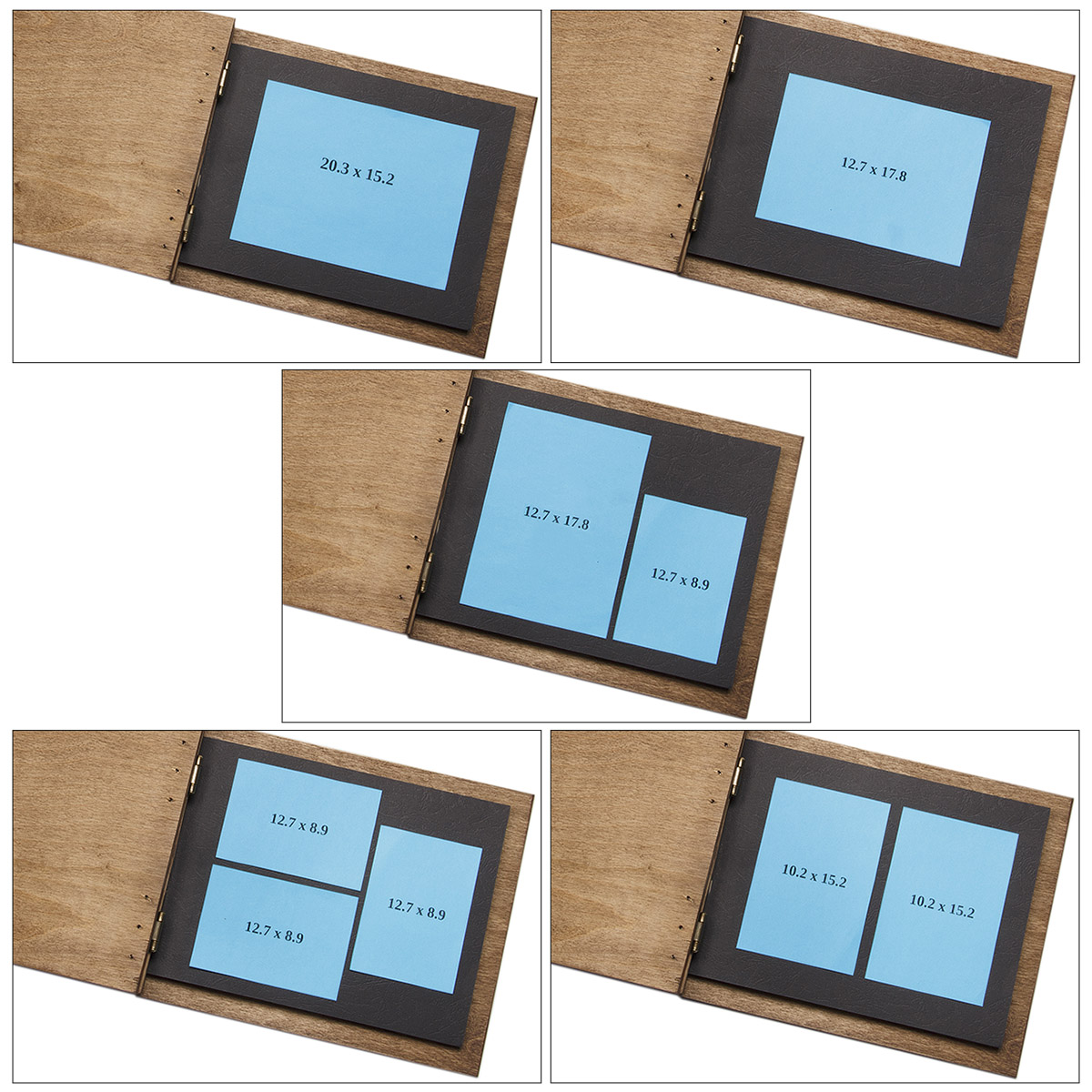 ---