Menu covers' references
Our menu cover - your best ambassador
 
The common saying states: "Food keeps body and soul together" The ancient Greeks and Romans knew how to appreciate good food. They celebrated a lot of parties and feasts, dining in a good company and making sure that they were served with the best kinds of dishes.
The true is that eating and drinking are essential to stay alive, and we must supply our bodies with the sufficient amount of food in order to be healthy. Even the times have changed, eating is still considered as the main social activity. Is there anything more enjoyable than going out with friends and colleagues, partner or family and just enjoying the time together in the company of the finest food and drinks? That is the reason why restaurants, bistros, coffee bars and even small bars are now experiencing the true renaissance.
 
People truly appreciate the time, when they don't have to cook for themselves. They would rather prefer to trust the skillful chefs in restaurants and enjoy the evening with the glass of wine instead of spending hours in their own kitchens. If you want to serve the food, desserts and wine in an extraordinary way, even the smallest details count. The menu's cover is like an ambassador for your restaurant.  The more sophisticated it looks the bigger impression it makes on your clients, convincing them to be in the right place and strengthening the image of your restaurant. Such an exquisite wooden menu cover is the best representative item for your restaurant.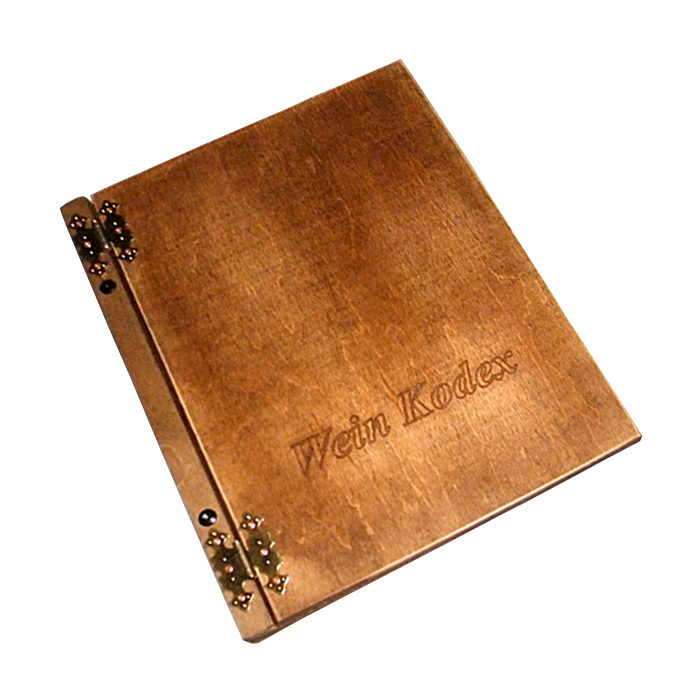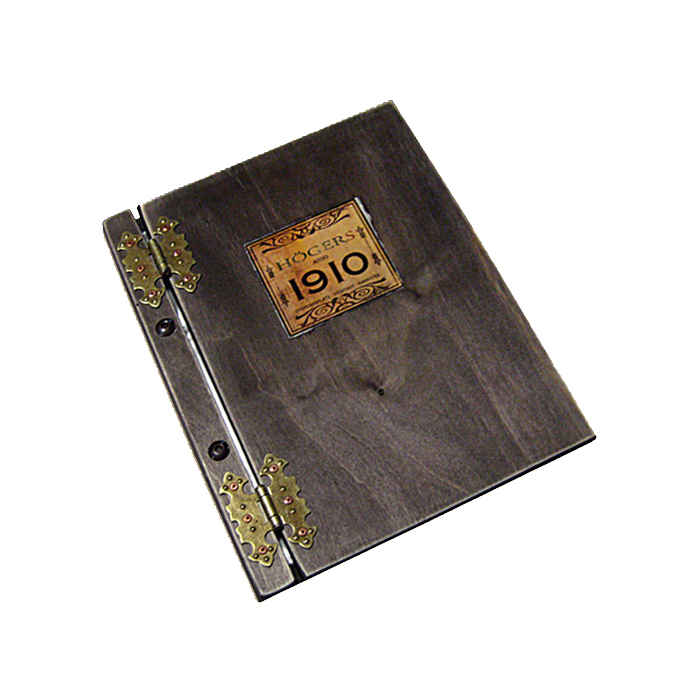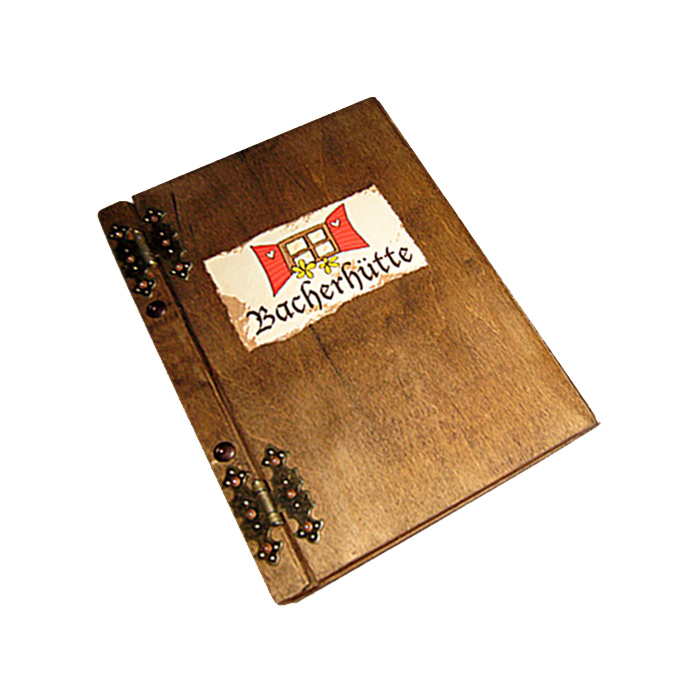 Wooden menu covers- to make your dining more enjoyable
 
Just as food has always been one of the daily activities of mankind, wood has always accompanied it as the indispensable natural material used by human kind ever since. The first tools and homes were made of wood. Wood has always been used as a useful material for creating their pieces of art. In order to make our special menus we derive or wood from the unique Scandinavian forests. To give our product a special and distinctive look it is treated with a special patina and contains the handmade hinges attached by the copper rivets to give it an extraordinary classic look. To make it more personal, it is possible to seal it with your own inscription, logo, title or the name of your restaurant. Such distinctively-looking menu cover will definitely be the best presentation of your restaurant and create your best image.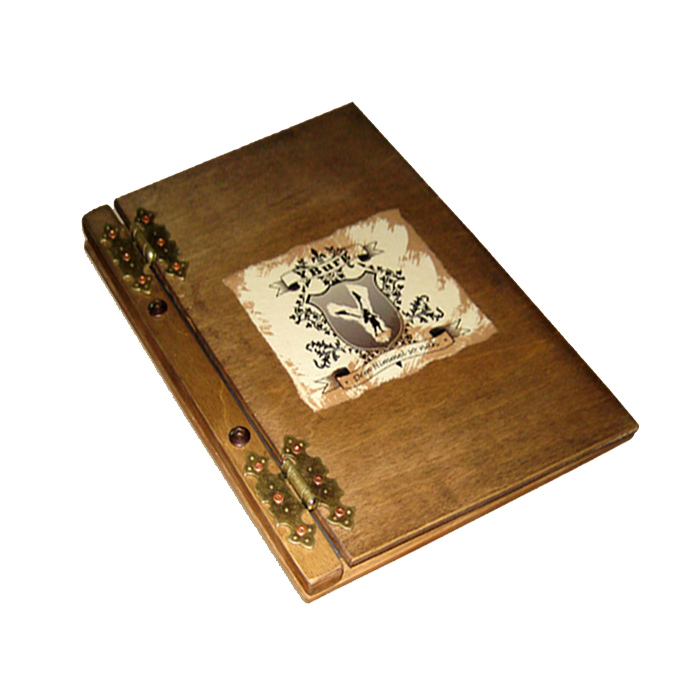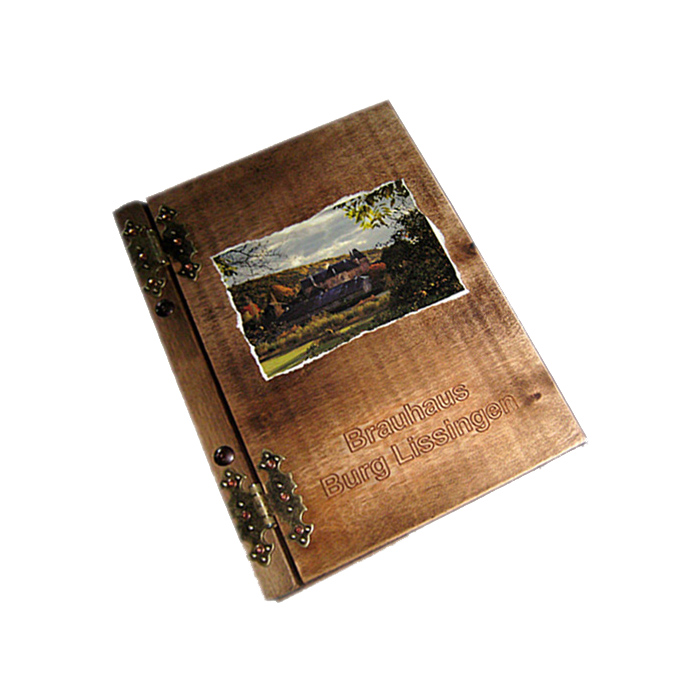 High-quality menu covers for high-quality food
 
Each of us must have been in a restaurant or bistro at least once in a lifetime. The variety of food there is usually so enormous that you can be bound among Leek soup, Carpaccio, Schnitzel or Pasta. The gastronomy enormously changed since the last decade and the chefs' task is to make sure that clients are always satisfied with their order. Restaurant's guests on the other hand care more for what they eat and as they are more willing to eat out they expect the food to be fresh and delicious.
That's undoubtedly the great chance and a big challenge for restaurants to keep their clients with them at all times. Each wine and meal must taste exactly as it looks - delicious! The feeling of luxury and good taste is also vital as the client needs  to be treated in a special way too. An exquisite menu cover is the best way to present your exquisite offer.  Our menus are possible to be tailored to your own size and style. To make them a little bit more than traditional, you are able to enrich them with the information about your region and its attractions. Such menu style can always guarantee a good communication and trust among you and your guests. As the menu cover is to give guests the first impression, clients are satisfied and not always come back again, but also give the restaurant good recommendation among the others. All in all, a beautiful menu cover is the first step to your client's satisfaction.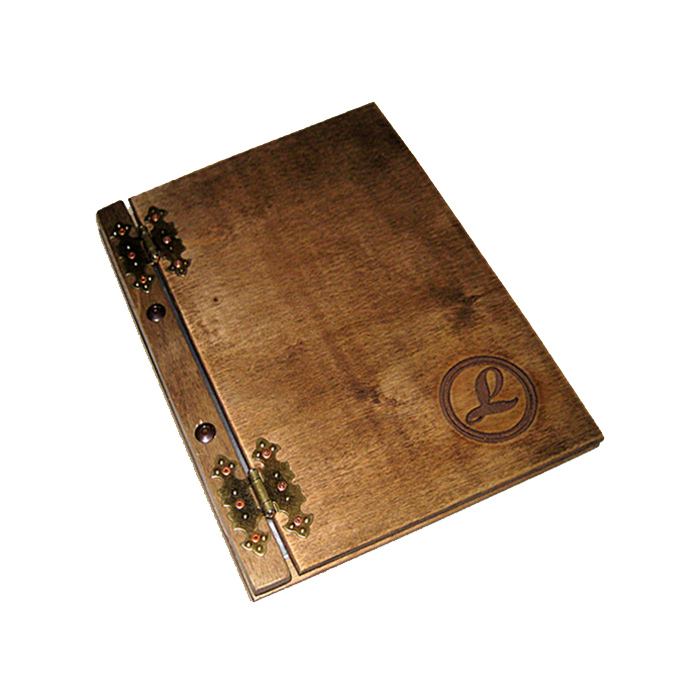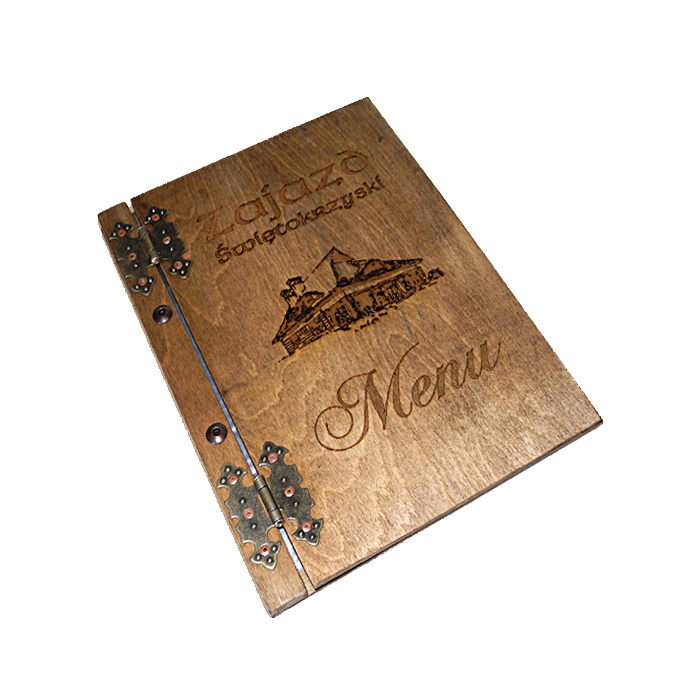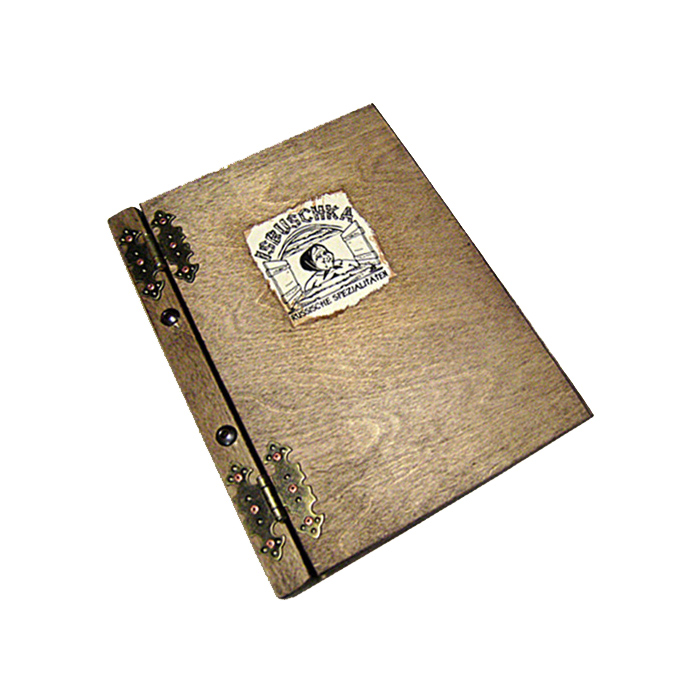 Sample cards  order by deposit
We came up with a random idea which is now becoming a rule on how to preserve a piece of art from extinction. Restaurant managers are always happy to achieve the biggest success which is the satisfaction of their clients. That make us happy too as we are providing the best solution for your restaurant by our extraordinary menus. Since they have become more and more popular, the clients are asking for the possibility of getting the sample before they make the purchase. Some clients are just curious if the style would fit their place, others just want to sell the menu. In this way it is possible to send you the sample of our menu by the deposit which is the value of the menu price. Without any rush will you be able to watch the menu cover with your friends and family and imagine how the cover would look like. The menu cover can then be returned on your demand and the deposit you will be paid back by PayPal or bank transfer.
We guarantee that we can make your wishes can come true. You will be satisfied with all our products, our extra-large menu or wine list cover will bring  joy not only to you, but to your clients, whose satisfaction is the first step to build your own success.