Dark album 25 black sheets large rings with your data
25 black sheets wooden book with your very personal lettering on our theme: golden rings
Large rings wedding album 32 x 25 cm - Scandinavian beech
Photos make the precious gift of unforgettable moments that will remain alive in memory. That is why they deserve to be kept in a special way and get ready for eternity. What could be more appropriate than keeping them all in a stylish wooden Aldecor Album?
Our wooden albums contain many characteristic traits as it is beeing unique. We are ready to make it as personal as possible. We can apply the labels or photos by your choice on the wooden cover - that is the special service, that is only availeble with Aldecor. With this very special album, we can ensure you that your memories will find a nice place to be kept in. Here you can fulfill all your wishes and make it as special as possible.

Your personalized wooden book with the big rings is made specially for you by.
Put your desired product to the cart.
About the purchase you get to the last tab "Summary".
Here you have the possibility to write your personal lettering in the comment field.
Thus, an assignment to the order is ensured.
However, you have the option to submit this after finishing your order on the button contact.
Please also share possible desires (the name in the rings or the like) with us.
Go to the contact form. Choose"Your personal signature"
Please enter in the contact field, next to your name, please include your special order.
After we receive your receipt of payment, we will produce a stencil.
The production places the original on a very thin parchment.
Employees send the photo by dammar * on the wooden cover.
After the drying time, the wooden book is sealed with a natural wood preservation glaze.
For the uniformity, the wooden book is finally treated with natural varnish.
Handmade and unique. All photoalbums and guestbooks are made especially for you, to bring your precious memories as close as possible. The album is made with care for every single detail. The wooden cover, made of beech is treated by Liberon to give the surface a special glance of elegance and an 'old' look, the hinges and rivets are hand decorated and made look 'old' too to match the retro style of the whole album. The cover photo of the album is crafted and applied in solvent printing process. The interior of album contains black, embossed cards separated by ecru interleaf sheets. The interior of guestbooks include ecru cards. They are excellently described with both pens, ballpoint pens, but most beautifully with our color-adjusted gel pens

Product information:
Woodbook, handmade
Cover size: 32 x 25 cm
Inside : 29,7 x 21 cm A4 format
Treated: forged brass patina 'retro' style
Hinges are attached with rivets (copper)
Cover material: Scandinavian beech Liberon treated
Dark wooden photo album 25-sheets
Design: Large rings with your own inscription
Inside: 50 embossed black pages
25 sheets separated by white interleaf sheets (to protect the photos)
---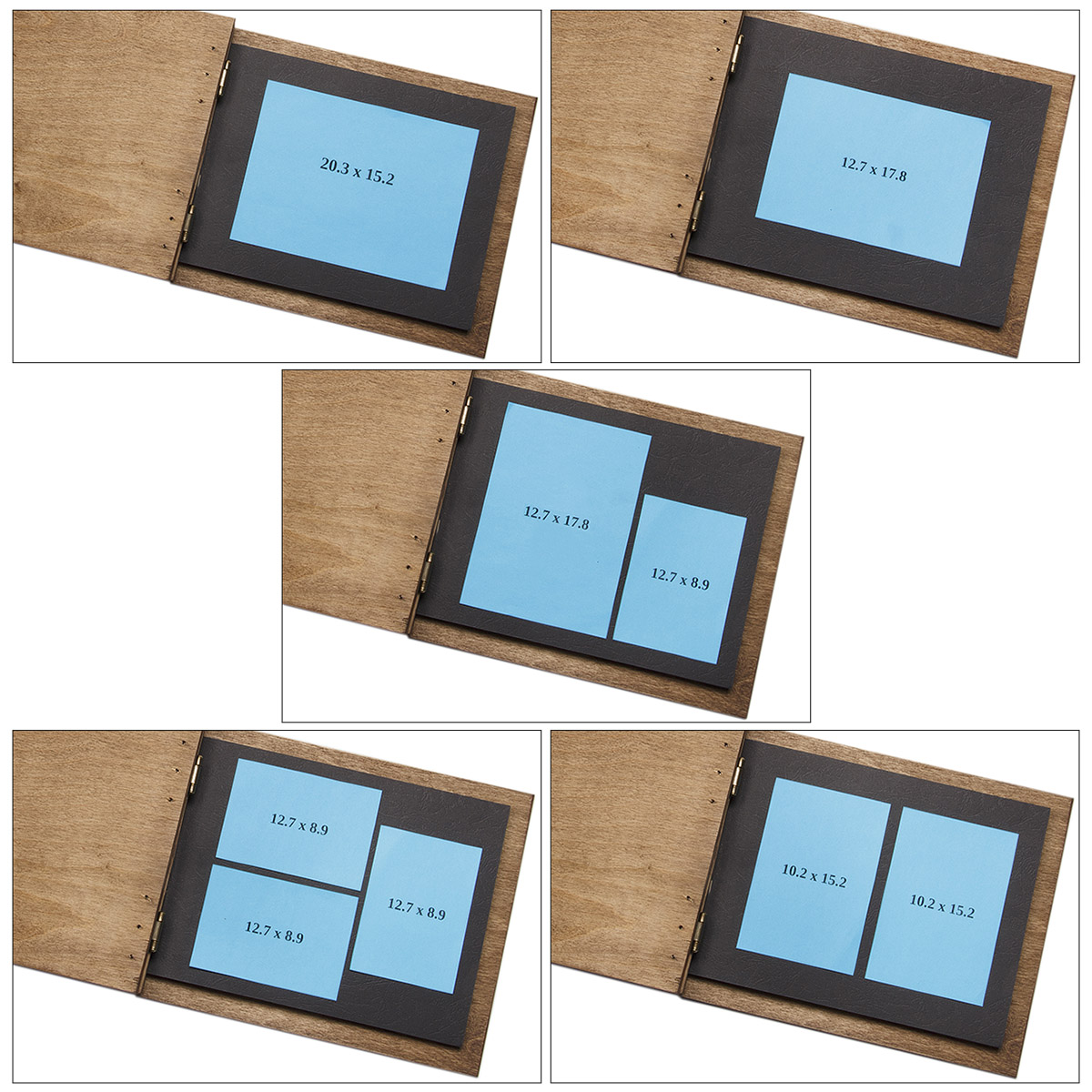 ---