75 white cardboards bright photo album with wedding motif
75 sheets photo album of bright wood with wedding motif - Size L - 32 x 25 cm - Scandinavian beech
Theme: Wedding scene (Bouquet and 2 golden wedding rings)
To laugh and to live to love and to exist - with this quotation in marriage nothing can go wrong. And now it is the time to cherish all these beautifull moments once again. Are you stuck in yours daily routine? Do you want to take a break and cherish the most beautiful and unique moments of life? You can now just sit down and relax with a bottle of good wine and a wedding photo album in your hands.
The art works we make provide an occasion for special stories which begin with the common phrase: 'Once upon a time'
We make our albums and guestbooks especially for you. The wooden cover is made of the finest selection of Scandinavian beech and treated by Liberon to give the cover a special noble look. The hinges attached to the cover by rivets are made of copper and hand decorated to look 'old'.
The 25, 50 or 75 white embossed cardboard sheets (50, 100 or 150 sheets) inside the photo albums are separated from each other by white tissue paper. We use 300 g heavy carton for these white sheets. Inside guestbooks there are 200 white (ecru colour) matching to the wood grain of the wooden guestbook. We use 90g color paper for our wooden guestbooks.
Product information
Photo album - handmade 
Cover size: 32 x 25 cm
Inside: 29,7 x 21 cm (DIN A4)
Treated forged brass patinated in retro 'old' style
Hinges attached by copper rivets
Cover material: Beech wood Liberon treated
Wooden photo album 75-sheet (Bouquet and 2 golden wedding rings)
Inside: 150 embossed white cardboard pages, 75 pieces 300g cardboard sheets
Both covers foldable, 4 hinges, 2 on the front, and 2 on the back
In the book spine there are three partitions after each 25 sheets (50 pages), riveted
75 sheets separated by white interleaf sheets (for better photos protection)
---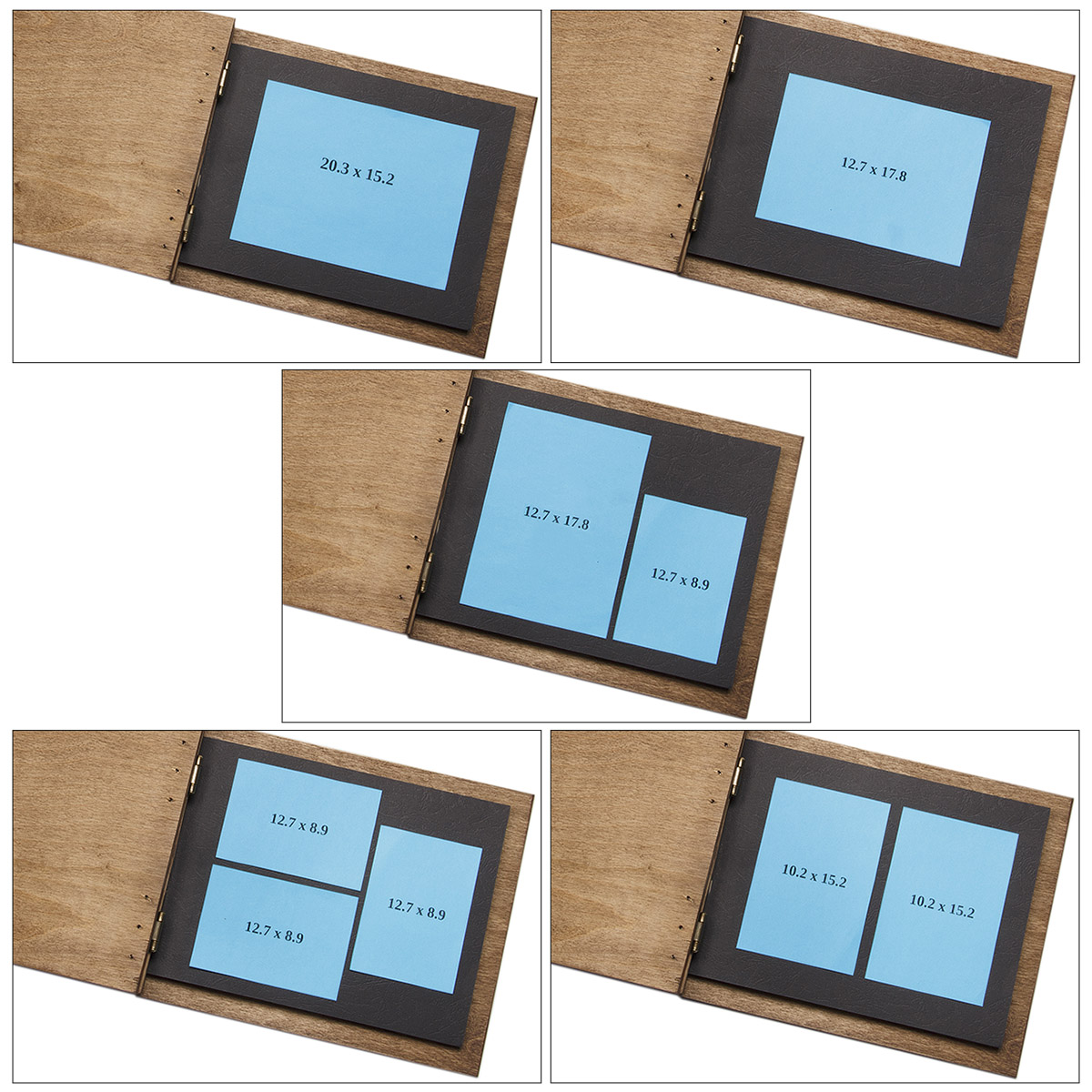 ---