75 sheets 3D wedding album your lettering and both covers folding
75 sheets of wooden wedding book with our motif rings in 3D
As well as your own personal lettering
Wedding rings in 3D wedding wooden book 32 x 25 cm - Scandinavian beech

People talk about wedding and marriage as it comes with the specific reason. The term in fact means 'the high time' and symbolises the hard times. This word also symbolises the fate. Finally it is a word that is derrived from the word 'confidence' as a promise made between two people.

The wedding ritual. There are only few ceremonies like that, when people are looking forward so that they prepare so intense and which are so time consuming. Inviting friends, looking for the dress, order of banns, the kiss, the rings and also the first dance, the wedding cake and finally throwing the wedding bouquet .

Anyone, who decides to go through life with the partner and enjoy the formal way of partnership will enjoy showing off his love to others, and will be proud of it.

For that reason the albums that we make are ready to contain a big aboundance of love as they are made with this specific purpose- to show your love. In them you can see how people express their love through the pictures they attach in albums. As each love is extraordinary our wooden albums and guestbooks are also extraordinary as they are handmade of unique and stylish materials . The purpose behind it is that the albums represent the love, they are durable as the marriage they exude purity and remain us best moments of life.

Anyone who enters this album, enters the world which shows the hours of commitement and relationship, which was done in the presence of relatives and friends - the sweetest memories of wedding act.

Your personal wooden book with 3D wedding rings will be made personal just for you
Put your desired product to the cart.
About the purchase you get to the last tab "Summary".
Here you have the option in Disposition tab to deposit your personal lettering.
Thus, it is guaranteed to order.
You also have the option to place complete order through the button Contact .
Please also share possible desires with us.
Go to the contact form. Choose "Your personal signature"
Please enter in the contact field, next to your name, please include your special order.
After we receive your receipt of payment, we will produce a stencil.
The production places the original on a very thin parchment.
Employees send the photo by dammar * on the wooden cover.
After the drying time, the wooden book is sealed with a natural wood preservation glaze.
For the uniformity, the wooden book is finally treated with natural varnish.
All photoalbums and guestbooks are made especially for you, to bring your precious memories as close as possible. The album is made with care for every single detail. The wooden cover, made of beech is treated by Liberon to give the surface a special glance of elegance and an 'old' look, the hinges and rivets are hand decorated and made look 'old' too to match the retro style of the whole album.The cover photo of the album is crafted and applied in solvent printing process. The interior of album contains black, embossed cards separated by ecru interleaf sheets. The interior of guestbooks include ecru cards. Along with the guestbook it is possible to attach a pen holder. For the best effect you should use a gell pen with your guestbook.
Product information:
Photo album, guestbook or wooden boxes are handmade
Cover size: 32 x 25 cm
Inside : 29,7 x 21 cm A4 format
Treated: forged brass patina 'retro' style
Hinges are attached with rivets (copper)
Cover material: Scandinavian beech Liberon treated
Dark wooden photo album 75-sheets our motif - your lettering
Design: 3D wedding rings with your personal lettering
Inside: 150 embossed black cardboard pages
Both covers foldable
Partition after each 25 pages; riveted
75 sheets separated by white interleaf sheets (to protect the photos)
---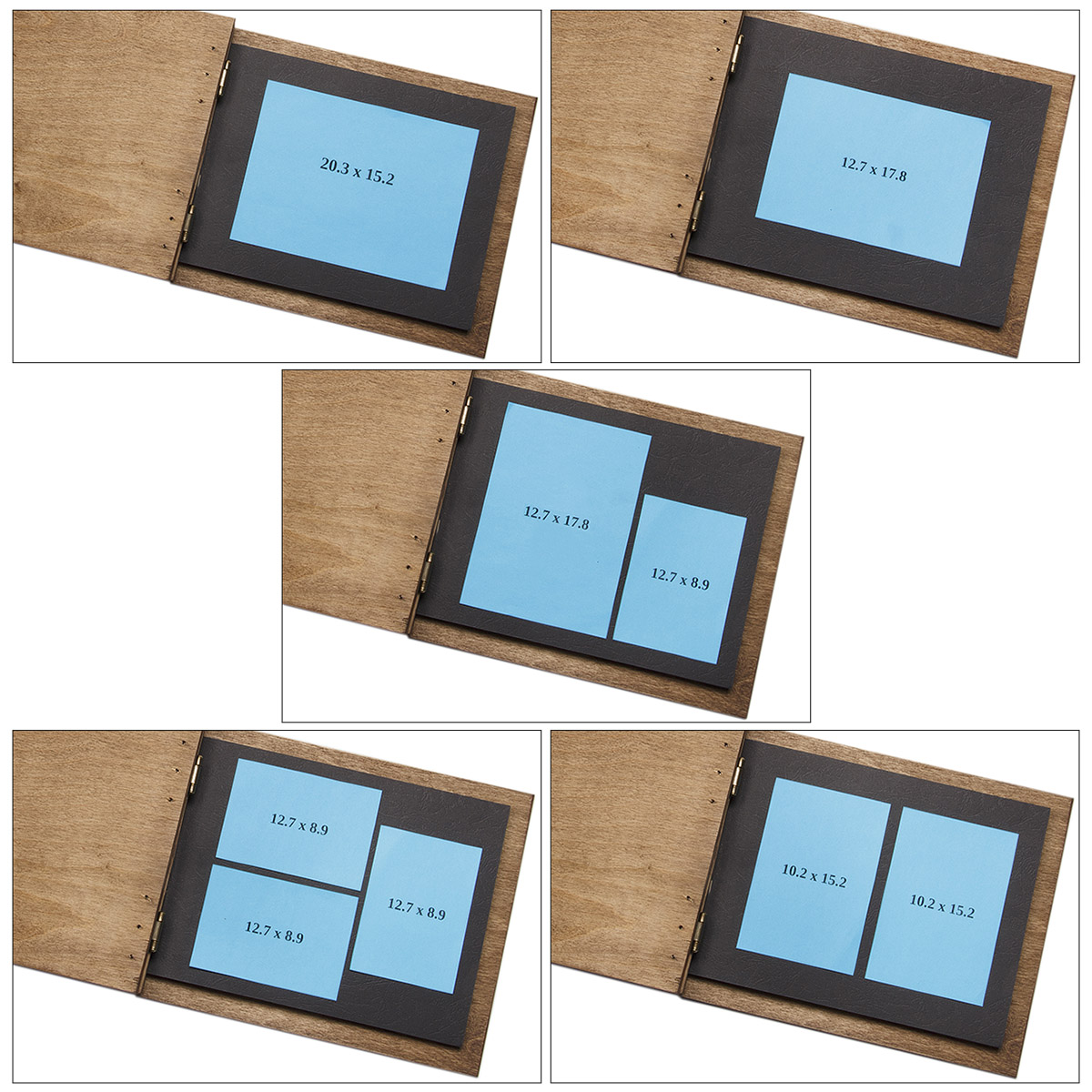 ---