75 sheets 150 white cardboard pages photo album and wooden box
75 sheets of photo album with white sheets with matching wooden box
Complete sets, wooden books with caskets in neutral, bright wood design
Wood is alive, wood is unique, wood radiates warmth, cosiness and at the same strength. The naturality and the beauty, which can be processed in a variety of ways, and still preserve its originality.
Since the begining of history wood has been widely used by humankind and still it seems to be unseparable part of our lives. It is used as a timber to construct things, as a decoration, or just in its natural form as a tree. Who does not like going to the forest to find peace and harmony from the hectic life we live today?
Wooden photo albums and guestbooks provide a great opportunity to link the treasure of wood with our most cherished moments in life. Not to mention; that each tree is made unique as the time leaves its traces on annual rings, branches and the structure of every tree. All in all, every product we deliver is made differenty and tells you the story of what the tree has experienced during the decades.
This unique material is able to keep the moments of life and store them in a safe, extravagant place. You can be sure that every time you want to present pictures in your wooden album, they will be presented in a beautiful and stylish way. Besides, the set - album with the matching wooden casket are a real eye-catchers. Your souvenirs can now be not only beautifully presented, but also perfectly protected.
Photo albums and guestbooks are made especially for you. The wooden cover is made of a noble kind of Scandinavian beech. The wooden cover is treated by liberon to give the cover that special glance of an 'old look'. Copper hinges are attached to the cover with rivets, both hand decorated in 'retro' style.
Inside the album there are white, embossed cardboard pages, 300 g heavy. On the contrary, the guestbook contains 90 g ecru pages, which makes a beautiful contrats to the wooden cover.
Product information
Natural, light-colour, wooden guestbooks or albums - handmade
Cover size: 32 x 25 cm
Interior: 29.7 x 21 cm (DIN A4)
Fitting: forged brass with patina treated (made on "old")
Hinges are attached with rivets (copper)
Cover material: beech wood Liberon treated
Material: Scandinavian precious beech
75-sheet natural photo album and matching wooden box
Inside: 75 sheets | 150 white embossed pages A4
Separated with white tissue paper (to protect the pictures)
Both covers foldable
3 wooden partitions inside, each after 25 sheets
Wooden box size 2, matching the album 
Width: outside - 385 mm / inside: 350 mm
Depth: outside - 310 mm / inside: 270 mm
Height: outside - 100 mm / inside: 70 mm (without cover)
Delivery: wooden album in wooden box
---
Events:
Gift ideas
Number of sheets:
75 sheets
Colour:
Material:
Wood
Format:
Size L
Markendesign:
Aldecor
Shipping weight:
4,20 Kg
Product weight:

4,20

Kg

Contents:
2,00 Piece
Dimensions ( length × width × height ):
39,00 × 31,00 × 10,00 cm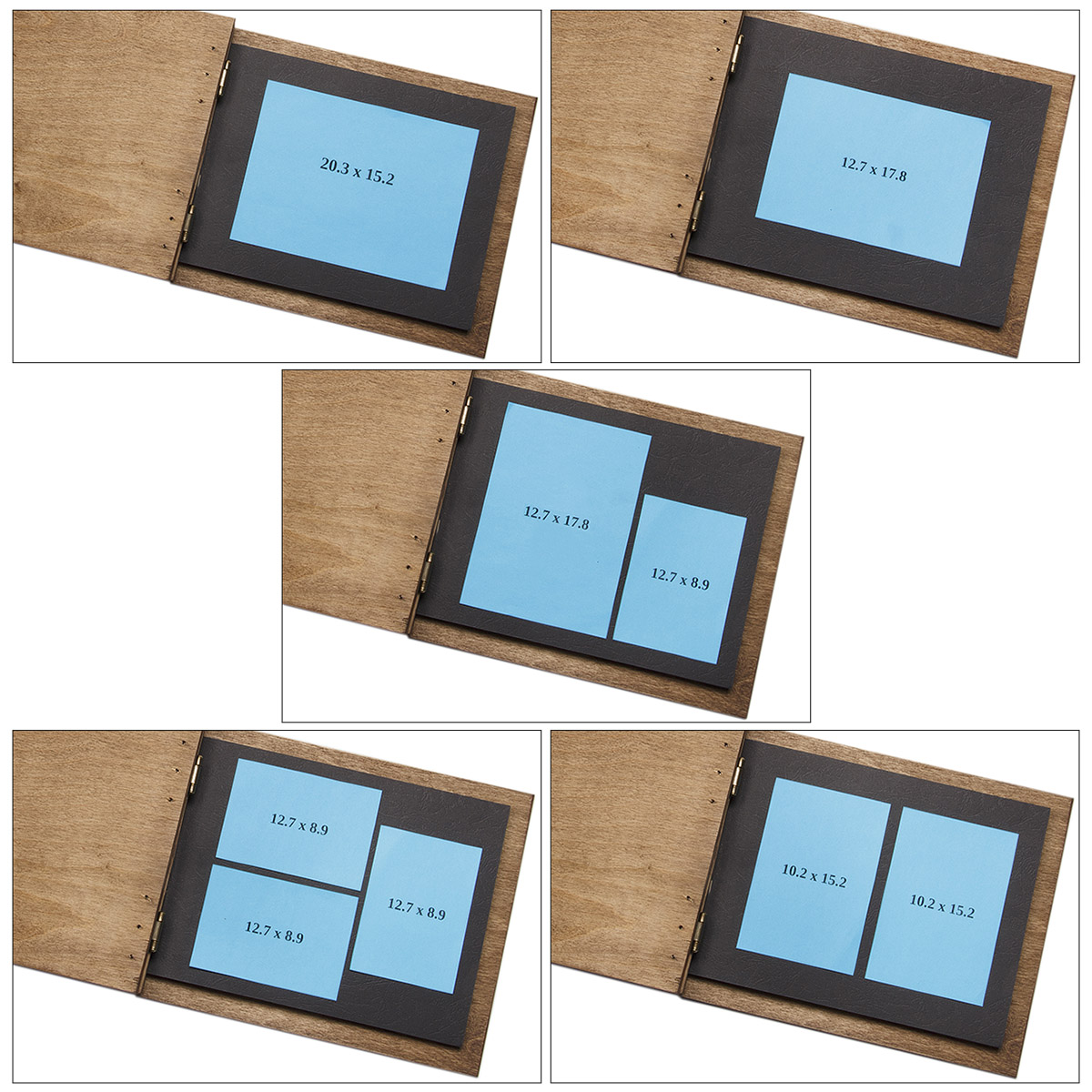 ---