75-sheet photo album wooden both covers foldable wedding motive
Both covers foldable photo album with 150 pages (75 sheets)
Motif: Wedding theme (angel, pen, 2 wedding rings) - 32 x 25 cm - Scandinavian beech
They are regarded as messengers and emissaries. In Ancient Greece the Angelus - the creature created by God was equipped in particular strenght and ability to spread the message from God. With their impressive wings, angels are always ready to proclaim the biblical truths or simply just to do good deeds.
They are still the embodiment of good and the instant messanger of love and considered not only in religious terms, but also symbolically as the embodiment of good. As they are the gatekeepers for the seventh heaven's gate, they are also the symbolic guardians of beautiful and good homes.
Therefore angels can be found everywhere as a symbolic representatives of beauty, special tasks and reminiscent of good wishes and heartfelt words.
Wheather the wedding or Christmas, engagement or just a heavenly vacation - angels will always give a hint of heavenly and extravagant climat to your life. Angels will also make your album a special place to keep your heavenly memories.
In our album you can recall all these beautiful moments in life in a heavenly style and design of your album. With the power of love and the desire to grow old together a wedding time can be celebrated once again even many years later in your nicely decorated photo collection. Our wooden books with angels will symbolize that good can be present in your life at all times and make it the valuable gift from heaven.
We make our albums and guestbooks especially for you. The wooden cover is made of the finest selection of Scandinavian beech and treated by Liberon to give the cover a special noble look. The hinges attached to the cover by rivets are made of copper and hand decorated to look 'old'.
The cover photo on the album cover is crafted - applied in solvent printing process. The interior containes black, embossed 300 g cardboards pages, which are separated by white interleaf sheets. For our guestbook we use ecru pages to match the wooden cover and the matching gel pen. They are excellently described with both fountain pens, ballpoint pens, but most beautifully with our color-adjusted gel pens
Product information
Wooden book handmade 
Cover size: 32 x 25 cm
Inside: 29,7 x 21 cm (DIN A4)
Treated forged brass patinated in retro style
Hinges attached by copper rivets
Cover material: beech wood Liberon treated
Wooden photo album 75-sheets
Motif: wedding theme (angel, pen, 2 wedding rings)
Inside: 150 embossed black cardboard pages
Both covers foldable
Three partitions after each 25 sheets (50 pages), riveted
75 sheets separated by white interleaf sheets (for better photos protection)
---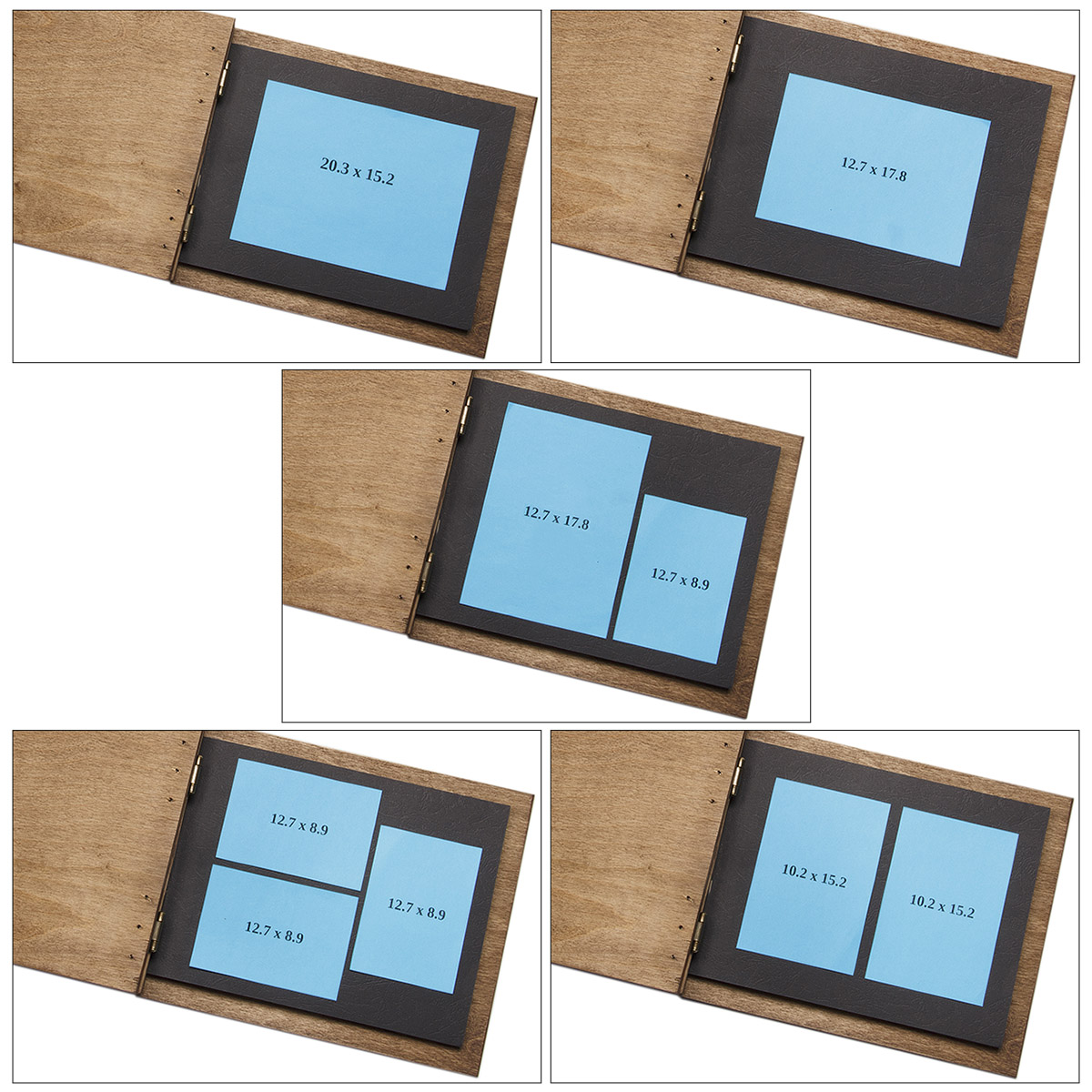 ---