75-sheet photo album with both covers folding and your own photo and a box
Thick wooden photo album with the matching wooden box and your personal photo on the cover
With strong book spine and hinged on both sides, hinges front and rear
Today the photo album' s role is not only to store the pictures, it must also present visual values to be attractive to customers. As many other things in life albums had their ups and downs too, but still they survived as the preservation of traditional way of storage the best moments in life. The most important moments, victories, ups and downs of everyday life, love and passion they all give our albums a special framework.

Whether as a gift or a decorative accesory a reminder of happy days or just a proverbial treasure chest, this combination of a 75 sheet album with the matching box create a little piece of art. Inside the album you will find plenty of place to store the best memories from your life. The design will ensure the highest durability and long-lasting, so even after many years you can sit down together with your beloved ones and ask: 'Do you remember?'
This thick photo album can be opened from both sides. In the book apine there are three milled partitions separating each 25 sheets. The interior of the album contains 75 sheets (150 pages) separated by white interleaf sheet. We use 75 sheets of 300 g heavy cardboards inside our album.

The photo that you will transmit to us is applied to the front cover of the album in a special rustic style. This feature is only available with Aldecor manufacture as they are well concerned about their clients wishes and demands. We are always ready to make your wishes come true.
Your personal album is made especially for you
Insert the desired product into your basket
In the purchase process you will be able to attach your photo**, company logo or name.
We allow the following format .jpeg,.jpg,.pdf,.png,.rar,.tif
We produce the stencil folder after recieving your payment.
We adjust the picture according to the form of the wooden book
The original matrix is made on a parchment and transfer on the wooden cover with Dammar*
After drying process, the wooden cover with your picture is sealed by natural wood preservation glaze.
The cover is finally treated with natural varnish, for the uniformity with the wooden cover
Product information for 75-sheet photo album:
Photo album - handmade with your photo on the wooden cover**
Cover size : 32 x 25 cm
Card size : 29.7 x 21 cm ( DIN A4 )
Patinated to get 'an old' look
Fittings: forged brass, treated with patina in "retro" style.
Hinges attached to the cover with copper rivets.
Cover material : beech wood treated with Liberon. 
75 sheets (150 pages) separated by white interleaf sheets (to protect the pictures)
In the book spine there are 3 wooden partitions, where each 25 sheets (50 pages) are riveted together

Product information for wooden box:
Wooden box handmade / size outside:
Width: 385 mm
Depth: 310 mm
Height: 100 mm (without the lid, for 1 album)
Dimensions inside:
Width: 350 mm
Depth: 270 mm
Height: 70 mm (without the lid, for 1 album)
Manufacturing terms:
10 working days after the full receipt of payment and the transfer of all data.
* Dammar resin is obtained from a malay broad-leaved tree which grows mainly on the archipelagos (Malaysia / Indonesia) in southeast Asia.
** When submitting your photo, you may already include a possible lettering (eg your wedding date) in your photo. Processing on our part is not possible for technical and legal reasons.
---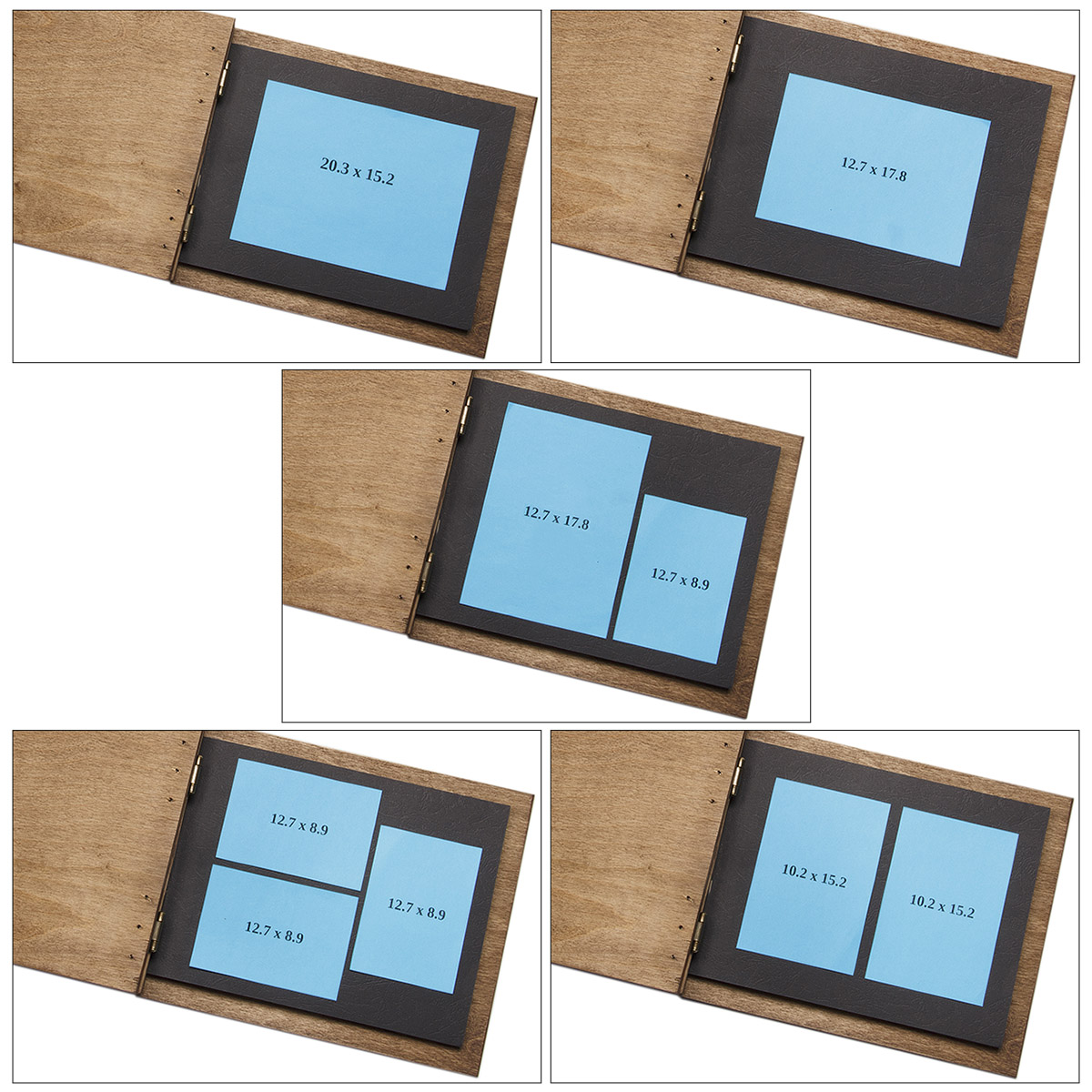 ---