75-sheet album with your personal lettering on the wooden cover
A 75-sheet album with a personal motif - the bridge to the memory, elegant wooden albums.
75 sheets of photo album with personal lettering on the cover. Your personal data or name on the front
Album with a book spine and folding on both sides, hinges front and rear.

Just as life changes, as spring and summer, autumn and winter determine the rhythm of the year, so is also with humans. From small and fragile beings someday be adults. Year after year, the wrinkles dig deeper in the face, the hair is lighter and grayer.

And even when the faces change every year, there is always something fascinating about it. Some pictures of people can be carried in our hearts forever. You can recall the exact look of your partner during the first date, you remember precisely your wedding hairstyle, and that makes your eyes shine bright every time you think about this.

The fact that we can hold some of the moments in life has much in common with the affection, emphaty and a vivid memory of men. Now with the Aldecor albums it is possible to preserve such memories in a very special way. A good photo album not only makes a wonderful place for the most beautiful memories of life, but it also provides much space for personal moments.

Therefore, people are particulary pleased with the albums that provide their personal motifs. Your photos - sometimes a decade old like the first recording of a child, a symbolic motif of nature, or architecture, or just the portraits of your spouse can all be the main theme of your personalised wooden album. The possibility of making your album tailored to your wishes, makes it a special gift for solemn occasions. Photos are the bridge to memories, from them people gain theirs strenght, confidence and courage to face life.

This thick photo album can be opened from both sides. The book spine contains 3 milled partitions, one after each 25 sheets (50 pages). The interior of album contains 75 sheets (150 pages) separated by white interleaf tissue paper. We use 300 g heavy cardboards for these 75 black sheets inside.
Your personal album is made especially for you
Insert the desired product into your basket
In the purchase process you will get to the 'Summary' tab
Here you can deposit your personal lattering
Your lettering is ready for order now
Your order can also be placed completely by 'Contact' button
Go to the Contact form and take an advantage of usung 'your personal signature'
Please enter your contact zone and include all necessary details
We make your stencil after a receipt of payment
Your logo or lettering is applied in the front cover dammar*.
After drying process, the wooden cover with your engraving is sealed by natural wood preservation glaze.
The cover is finally treated with natural varnish, for the uniformity with the wooden cover. 
Product information:
Photo album with your lettering - handmade
Cover size : 33 x 25 cm
Card size : 29.7 x 21 cm ( DIN A4 )
Fittings: forged brass, treated with patina in "retro" style.
Hinges attached to the cover with copper rivets.
Cover material : beech wood treated with Liberon. 
75 sheets / 150 pages of black embossed cardboards
Delivery: 75 sheet photo album with your personal lettering
Manufacturing terms:
10 working days after the full receipt of payment and the transfer of all data.
* Dammar resin is obtained from a malay broad-leaved tree which grows mainly on the archipelagos (Malaysia / Indonesia) in southeast Asia.


---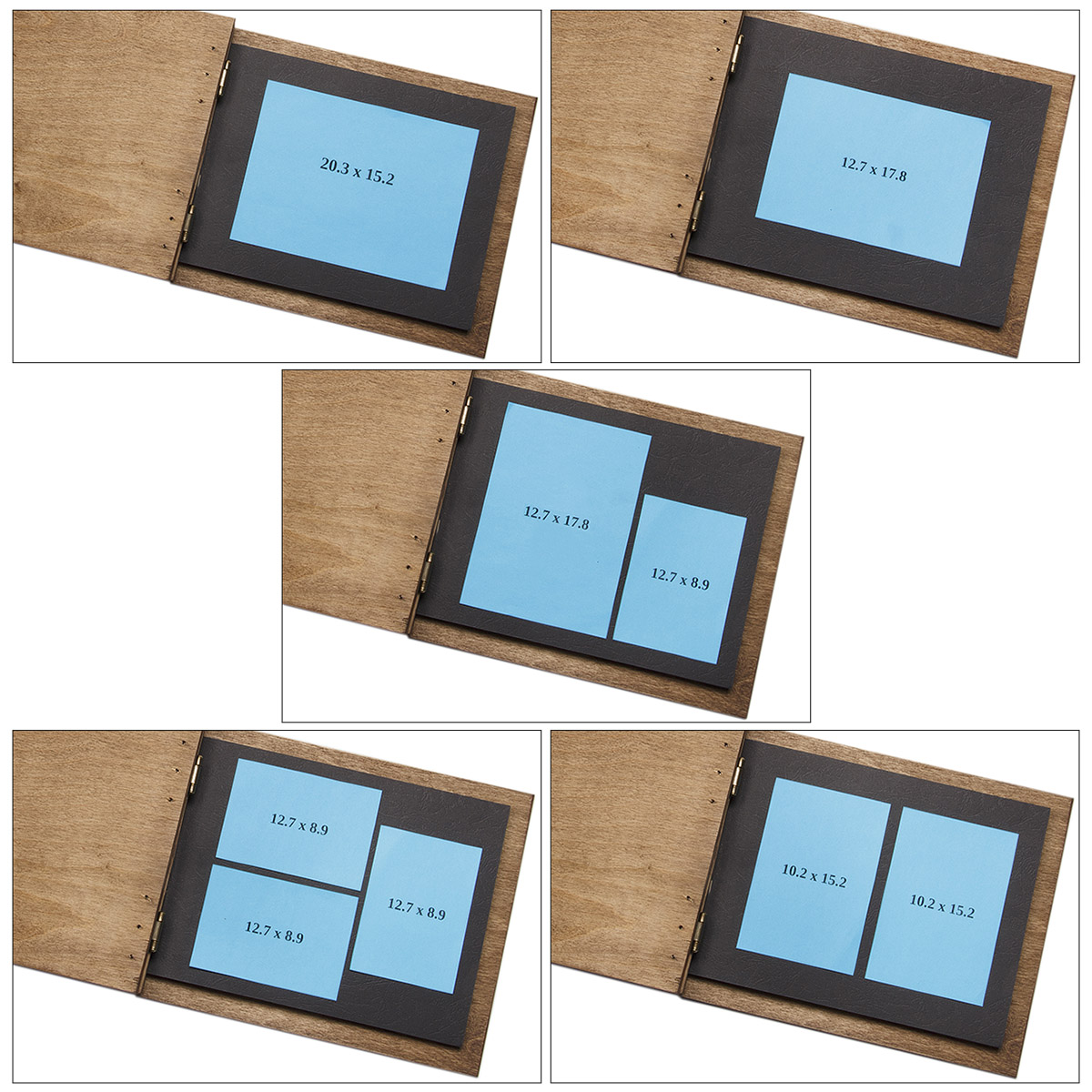 ---