25 sheets photo album with your own photo personal photo album
Wooden photo album with 25 black cardboard sheets and your personal photo.
Photo album with your photo, which we put on a wooden album
Inside: 50 black cardboard pages / 25 sheets photo album
 
Everyone would like to keep the beautiful moments forever. There is nothing more beautiful than sitting with the beloved ones talking about wonderful vacations, or a special party, or even a meeting with friends and colleagues. That is why the real  photographs even in the internet age have lost nothing of their charm. They are like our anchor into the past, the chance to keep our beautiful moments forever. 

Thus the photo albums, made according to the idea of funcionality and elegance, are still the best idea for storing the precious memories. Whether it is a happy day in life, holidays with the family or just the birthday of your child - there are plenty of moments that make life worth living and they are all worth special attention. Storing your pictures in an extraordinary place is the biggest credo of our manufactory, and we feel obliged to provide you the best solution to make it happen.

Fine woods and a unique patina, high - quality cardboards and handmade hinges ensure that even after years of watching the albums will still make an excellent pause for a little joy. Storing the pictures in an extraordinary place is the credo of our manufacture, and we feel obliged to ensure the clients, that they will get the best product.

Your personal album is made especially for you
Insert the desired product into your basket
In the purchase process you will be able to attach your photo**, company logo or name.
We allow the following format .jpeg,.jpg,.pdf,.png,.rar,tif
We produce the stencil folder after recieving your payment.
We adjust the picture according to the form of the wooden book
The original matrix is made on a parchment and transfer on the wooden cover with dammar*
After drying process, the wooden cover with your picture is sealed by natural wood preservation glaze.
The cover is finally treated with natural varnish, for the uniformity with the wooden cover.
Product information:
Photo album - handmade
Cover size : 32 x 25 cm
Pages size : 29.7 x 21 cm ( DIN A4 )
Fittings: forged brass,treated with patina in "retro" style.
Hinges attached to the cover with copper rivets.
Cover material : beech wood treated with Liberon.
Inside: 25 sheets, 50 black embossed cardboard pages 
25 sheets separated by white interleaf sheets ( to protect the photos)
Delivery: 25 sheet photo album with your personal photo
Manufacturing terms:
10 working days after the full receipt of payment and the transfer of all data.
* Dammar resin is obtained from a malay broad-leaved tree which grows mainly on the archipelagos (Malaysia / Indonesia) in Southeast Asia.
** When submitting your photo, you may already include a possible lettering (eg your wedding date) in your photo. Processing on our part is not possible for technical and legal reasons.
---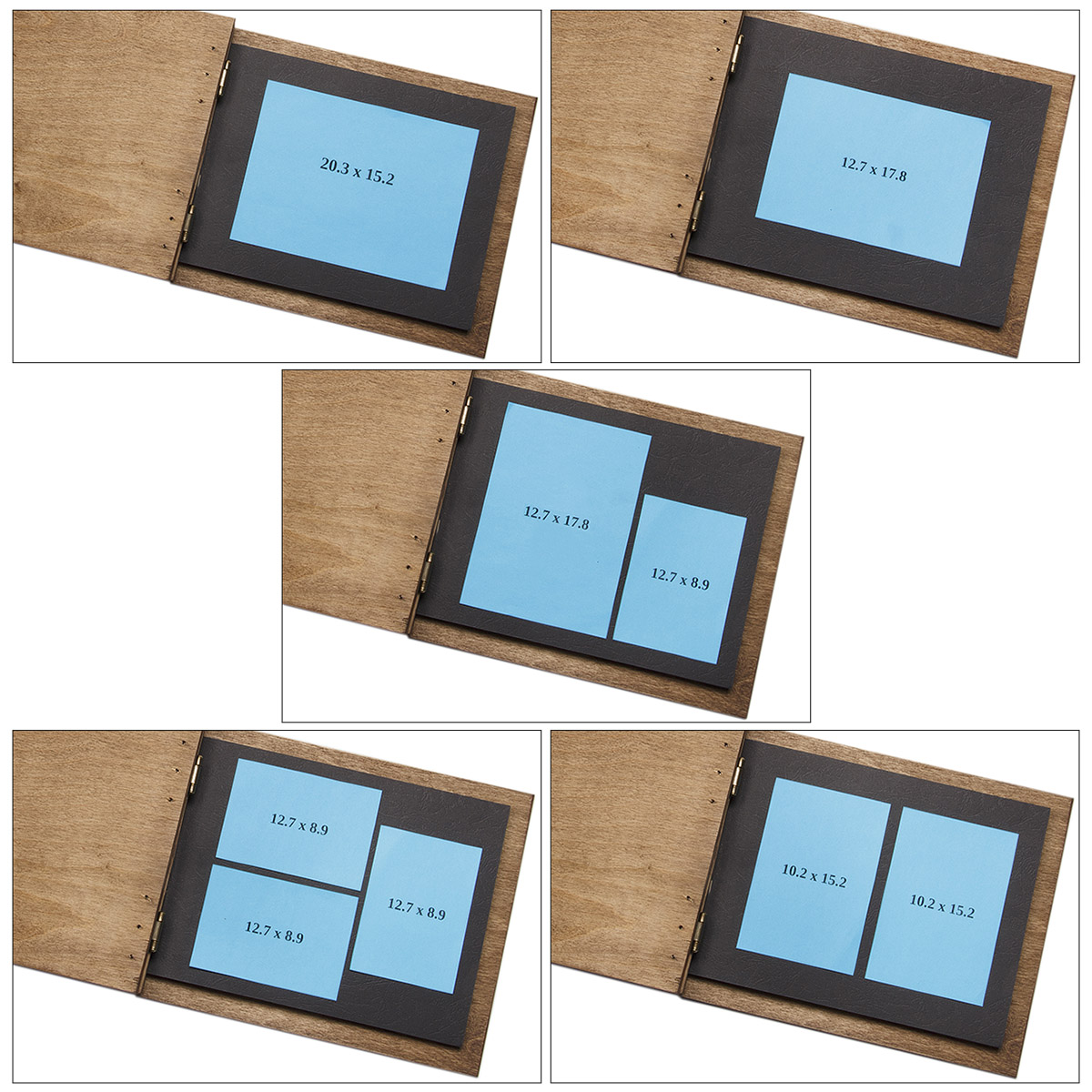 ---