25 sheets album wedding rings shiny yellow background
25-sheet wooden photo album
Wooden books for the wedding - 32 x 25 cm - Scandinavian beech
Our theme's name: wedding rings on shiny background
Since ancient times, there has been a certain custom that lasted throughout the ages. When two people are connected in a certain way and love each other they create a specific kind of vow. They promise each other to stay together in good and bad days and to get old together is probably the most moving day in every person's life. The wedding ceremony is always associated with the wedding whether it is before the altar or in a register office, the moment is always publically celebrated and festive.
As the act of marriage is always followed by a big cellebration, this day will always remain in the memory of a young couple forever. The first kiss, "I do" words,holding hands, giving the ring and rushing through the hord of guests during the wedding ceremony, all these memory deserve a special place to be stored in. We offer you a very special place to get all your picture stored with style and taste. Our wooden books are made from natural materials, the wooden cover makes the album look beautiful and give it a hint of life purity. The hinges made of cooper plus the insert with rich clear-cut paper create enough space for photos and cards, small accessories and greetings.
As the result you will get the album full of love, individual from the first page. The special place to give your thanks, wishes, pictures, drawings. The cover may contain the wedding theme, a symbol of love or it can be personalised according to your very special demands. This album is not only the collection of photos, it is the most extraordinary place for storing the memories of the wedding. Finally love is always succesfull when it is lived in authentic way and renewed day by day.
We make our albums and guestbooks especially for you. The wooden cover is made of the finest selection of Scandinavian beech and treated by Liberon to give the cover a special noble look. The hinges attached to the cover by rivets are made of copper and hand decorated to look 'old'.
The cover photo on the album cover is crafted - applied in solvent printing process. The interior containes black, embossed 300 g cardboards inside our album, which are separated by white interleaf sheets. For our guestbook we use ecru pages to match the wooden cover and the matching gel pen. They are excellently described with both fountain pen, ballpoint pens, but most beautifully with our color-adjusted gel pens
Product information:
Wooden book (books) - handmade 
Cover size: 32 x 25 cm
Inside: 29,7 x 21 cm (DIN A4)
Treated forged brass patinated in retro style
Hinges attached by copper rivets
Cover material: Beech wood Liberon treated
Wooden photo album 25-sheets
Theme: wedding rings on shiny background
Inside: 50 embossed black cardboard pages
25 sheets separated by white interleaf sheets (for better photos protection)
---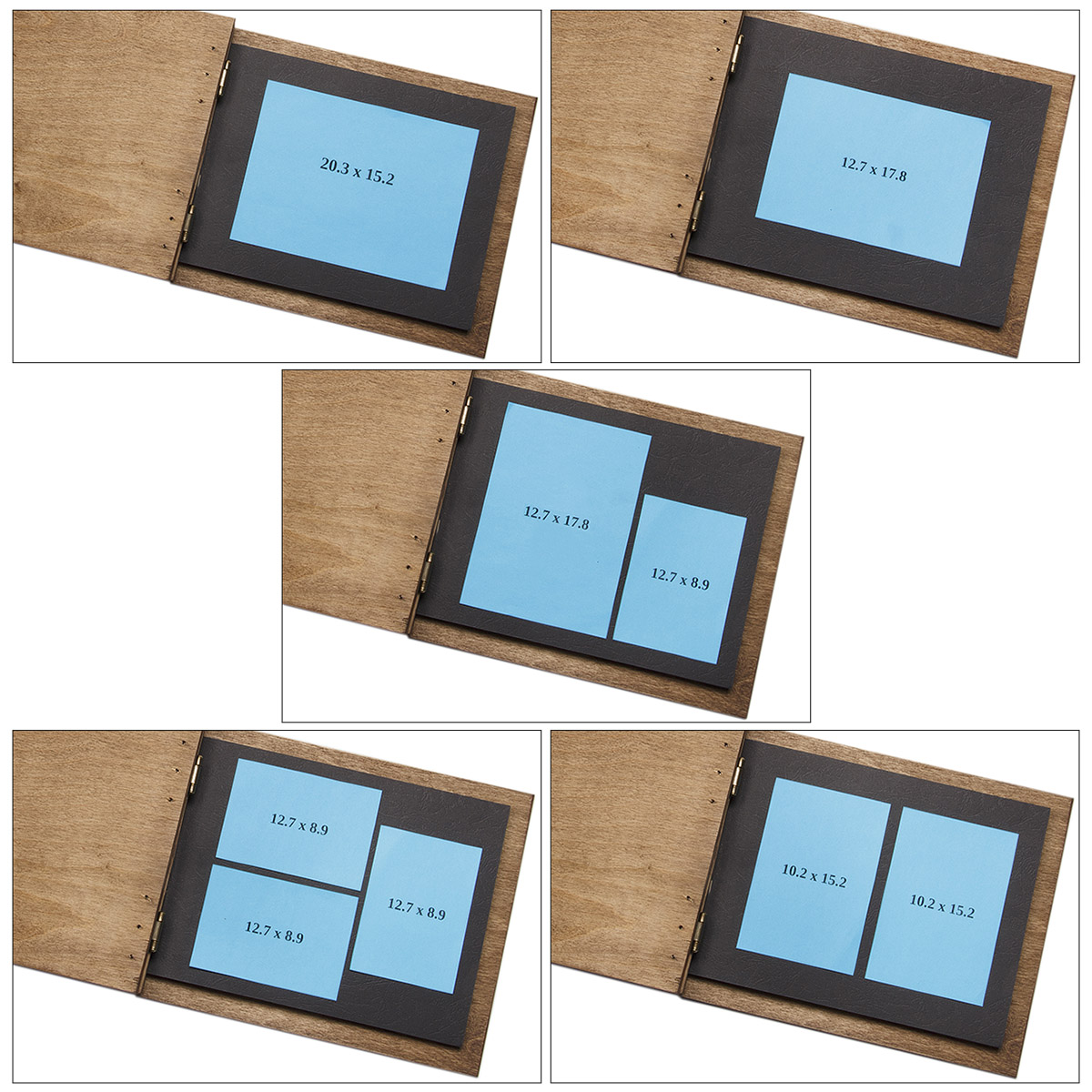 ---