25-sheet wedding photo albums 2 wedding rings blue flowers wedding
25 sheets wooden photo album for wedding
Wooden books for the wedding - 32 x 25 cm - Scandinavian beech
Our theme's name: wedding rings on blue flowers
Hardly any natural raw material is as fascinating as wood. Hardly any natural resource can tell so many stories - from the development and growth of its annual rings and of how different the wood is soft or hard, gentle or strong. 
To ensure that every wooden book is unique and not only keeps the memories alive, but also remains as beautiful and lively as possible, it is subjected to a complex treatment. Dipped over and over again with a specially developed tincture, the fibers of the wood are continuously smaller and combine to a special stable material. This unique patina gives the wooden books and wooden boxes their extraordinary elegant appearance. It makes the wood robust in a way, yet still exudes the lightness that makes every product from Aldecor so extraordinary.
The harmony of colors and the balance of selected materials eventually arise, as it were conjured by the centuries preserved. Only then the excellent craftsmen can produce a small works of art. And that's what they should be: There are finally the most beautiful moments, the ones you may cherish in the time of peace and quiet. Some seconds of embracing memories can be hold on for hours. The fascinating cover album will fascinate you with the delicacy and precision of handwork and when you are scrolling through the pages inside, your soul will melt when seeing these beautiful pictures, that bring a loads of memories.
We make our albums and guestbooks especially for you. The wooden cover is made of the finest selection of Scandinavian beech and treated by Liberon to give the cover a special noble look. The hinges attached to the cover by rivets are made of copper and hand decorated to look 'old'.
The cover photo on the album cover is crafted - applied in solvent printing process. The interior containes black, embossed 300 g cardboards inside our album, which are separated by white interleaf sheets. For our guestbook we use 90 g ecru pages to match the wooden cover and the matching gel pen. They are excellently described with both fountain pen, ballpoint pens, but most beautifully with our color-adjusted gel pens
Product information:
Wooden book (books) - handmade 
Cover size: 32 x 25 cm
Inside: 29,7 x 21 cm (DIN A4)
Treated forged brass patinated in retro style
Hinges attached by copper rivets
Cover material: Beech wood Liberon treated
Wooden photo album 25-sheets
Theme: wedding rings on blue flowers
Inside: 50 embossed black cardboard pages
25 sheets separated by white interleaf sheets (for better photos protection)
---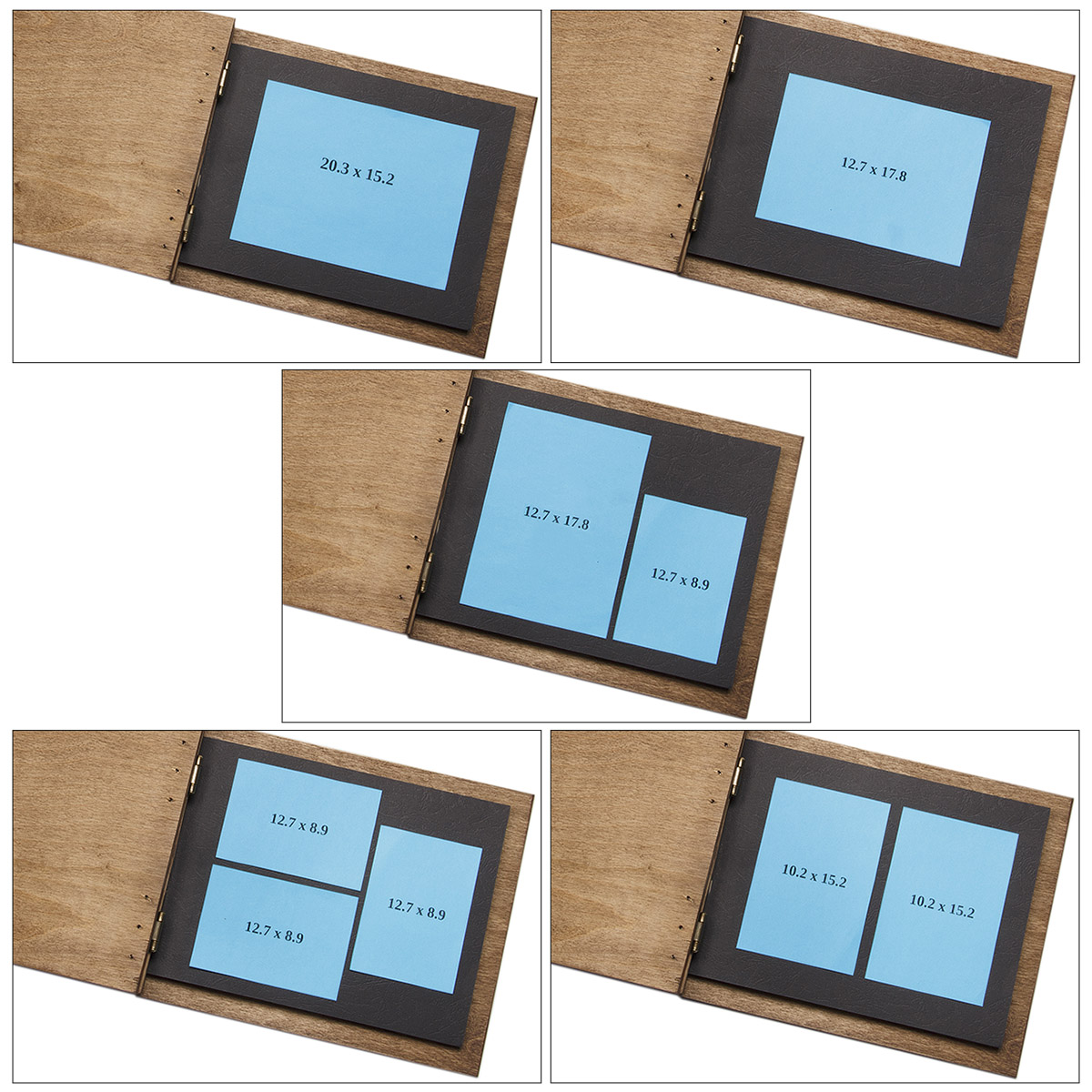 ---