25-sheet photo album and guestbook in a box with 1 photo on wooden books
Gift set. 25-sheet album + guestbook in a wooden casket, both personalised.
Your own photo on the cover of guestbook and wooden album.
Both in a gift package of the same wood structure.
Your photo on the photo album: 50 pages / 25 black cardboard sheets
The same photo on the covers with 200 pages / 100 ecru sheets
Nowodays, time is the greatest treasure of mankind. Since everything has been organised due to minutes seconds and dates and we live in the era when anyone can be easily reached via Smartphone, time seems to be of the greatest importance.

Some people chose to go on holidays, where they turn off their mobile phones and cannot be reached by anyone, as they want load their soul own in a nice enviroment far away from the stresses of everyday life.

Many people today keep taking and storing pictures of their life time. Sometimes they are big moments and sometimes they are just small ones, but they all contain stunning scenes and details that can be loked over again and again day after day. Holding to these moments and fractions of second is for many people the source of strenght beyond time.

In order for these moments not to fade away even after a long time, the wooden album is an unusuall alternative for them to be recalled over and over again. Made of wood and fine paper, cooper forged hinghes, handmade and coated with the special patina, we devote much time for producing each single item to make them perfectly designed place for storing timeless photos.

As the result a harmonious mix of old and new shots finds their completion in a wooden Aldecor album. The details in the album can now be appreciated and cherished by everyone who uses this special memory tool in a very special way and design.

The photo that you will transmit to us is applied to the front cover of the album comes in a special rustic style. This feature is only available with Aldecor manufacture as we are well concerned about our clients wishes and demands.
Your personal album & guestbook will be made especially for you
Insert the desired product into your basket
In the purchase process you will be able to attach your photo, company logo or name.
We allow the following format&nbsp: .jpeg,.jpg,.pdf,.png,.rar,.tif
After the payment has been received, we will produce a matrix - from your photo.
We adapt the photo accordingly to the form of the wooden books.
The production then produces a print of the original on a very thin parchment.
The employees transfer the photo using the Dammar resin * to the woodwork.
After drying process, the wooden cover with your engraving is sealed by natural wood preservation glaze.
The cover is finally treated with natural varnish, for the uniformity with the wooden cover.
Product information
Photo album - handmade with your photo on the wooden cover**
Cover size: 32 x 25 cm
Pages size: 29.7 x 21 cm ( DIN A4 )
Fittings: forged brass, treated with patina in "retro" style.
Material: Scandinavian beech Liberon treated
Set - 25 sheet album and guestbook in a box
Photo album - inside: 25 sheets / 50 black embossed pages A4
Singled by white interleaf tissues ( for better protection of photos)
Guestbook - inside 100 sheet / 200 ecru colour pages A4
Wooden box - size 1 matching box
Width: outside: 385 mm / inside: 350 mm
Depth: outside: 310 mm/ inside: 270 mm
Height: outside: 80 mm / inside: 50 mm ( without the lid) 
Delivery: Photo album & guestbook with your own personal photo in a wooden casket
Manufacturing terms:
10 working days after the full receipt of payment and the transfer of all data.
* Dammar resin is obtained from a malay broad-leaved tree which grows mainly on the archipelagos (Malaysia / Indonesia) in southeast Asia.
** When submitting your photo, you may already include a possible lettering (eg your wedding date) in your photo. Processing on our part is not possible for technical and legal reasons.
---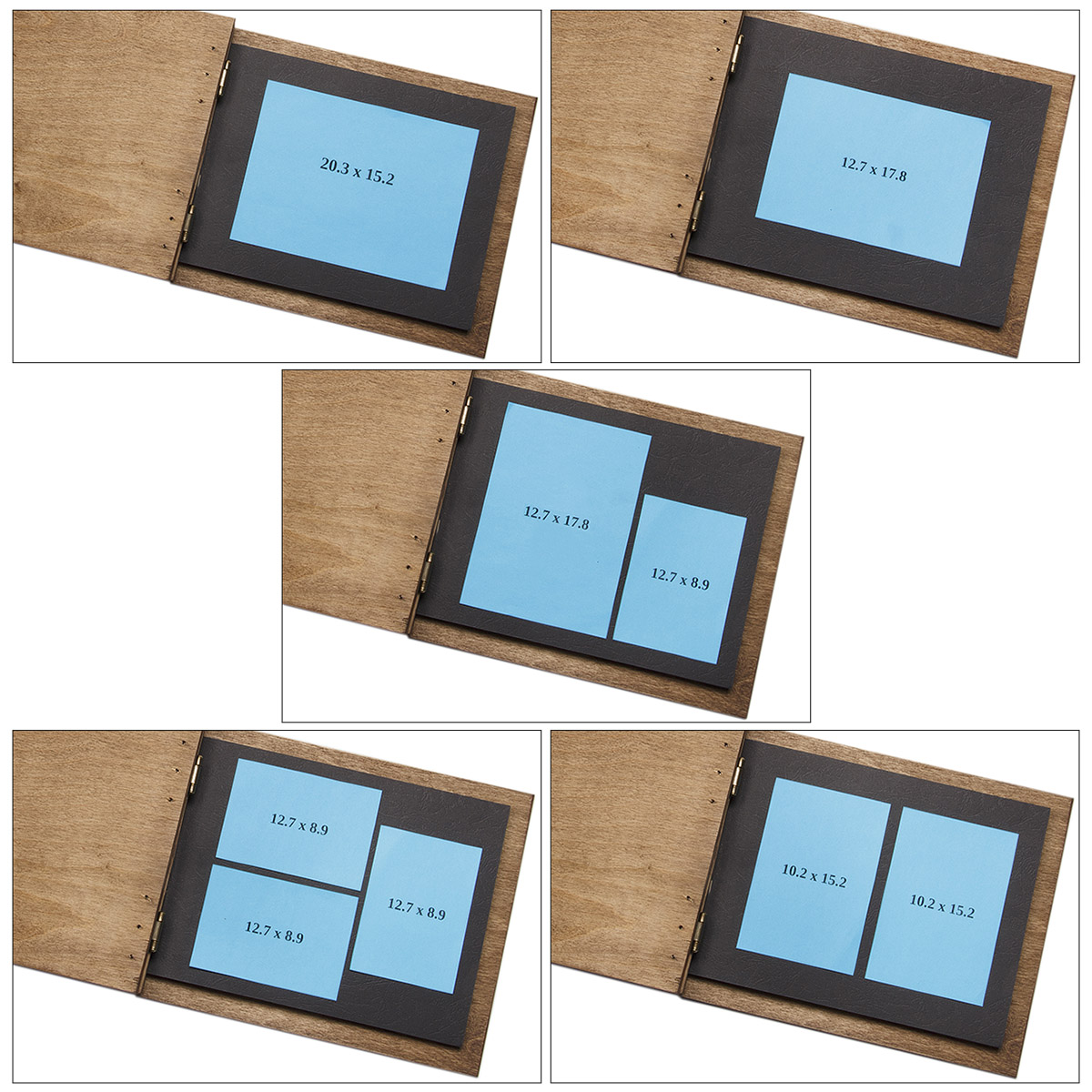 ---