25 sheet Bible motif photo album black embossed sheets
25 sheets of wooden photo album
Wooden books for the wedding - 32 x 25 cm - Scandinavian beech
Our theme's name: Bible page with 2 wedding rings
It is the most widely-printed book in the world - and probably one of the oldest. For 2,000 years, the Bible has been accompanying people in their daily lives, and they have long since ceased to exist in the Church alone. The Bible gives orientation, the Bible gives support: And so it finds itself not only in churches, but also in many households, in hotel and pension rooms. To this day, there are people who, in Bible studies, discuss the traditions of it's history.
Up till today people also treat this book as the holy souvenir from their wedding ceremony, where they put their hands before the altar to make their marriage vows before God. The book of books, as it is called by many, is now captured in our wooden cover. Besides, the inscriptions from the Bible adorn the cover and provide the background for two intertwined rings made of fine silver, symbolizing a partnership.
Whether it is an engagement, a wedding ceremony, a silver or golden wedding, with our special design you will be able to fulfill your special demands with our noble and elegant accesories. On one hand, such book can be an ideal place to store the snapshots from the most charming memories of your life, on the other hand it makes an ideal gift, extraordinary, beautiful and just perfect for your beloved ones, friends or collegues.
With a stylishly designed wooden book, it gives you the chance to recall memories and give them the proper a place.
We make our albums and guestbooks especially for you. The wooden cover is made of the finest selection of Scandinavian beech and treated by Liberon to give the cover a special noble look. The hinges attached to the cover by rivets are made of copper and hand decorated to look 'old'.
The cover photo on the album cover is crafted - applied in solvent printing process. The interior containes black, embossed 300 g cardboards inside our album, which are separated by white interleaf sheets. For our guestbook we use ecru pages to match the wooden cover and the matching gel pen. They are excellently described with both fountain pen, ballpoint pens, but most beautifully with our color-adjusted gel pens
Product information:
Wooden book (books) - handmade 
Cover size: 32 x 25 cm
Inside: 29,7 x 21 cm (DIN A4)
Treated forged brass patinated in retro style
Hinges attached by copper rivets
Cover material: Beech wood Liberon treated
Wooden photo album 25-sheets
Theme: Bible excerpt and partnership rings
Inside: 50 embossed black cardboard pages
25 sheets separated by white interleaf sheets (for better photos protection)
---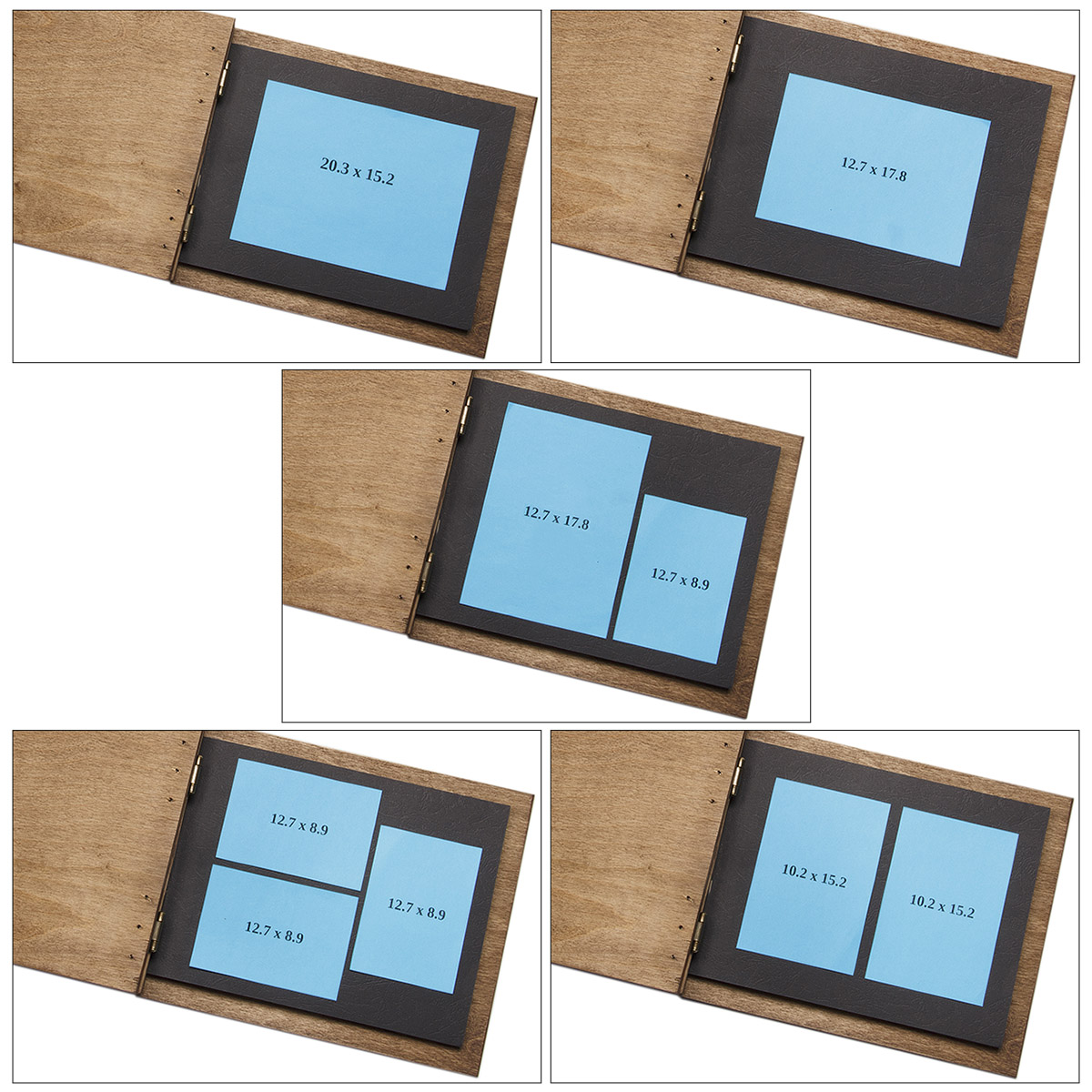 ---